2021 Season
With the reopening of the Eagle Theatre, Players Guild and the theatre have implemented CDC compliant procedures. For the foreseeable future, all who enter the theatre must wear a mask. It's for your safety. Only the actors onstage will not wear them so you will still have a good theatre experience. When you order your tickets, Big Tickets has a dynamic social distancing seating chart that automatically blocks out 6ft around you in all directions for social distancing.
Tickets will be purchased at Big Tickets. Visit the event on the Eagle website. If you have any issues contact Big Tickets at support@bigtickets.com
Show Times:
Friday and Saturday – 7:30pm, Sunday matinee – 3:00pm
Guildlings Summer Camp with On the Stage Theatre Alliance – June 14-26, 2021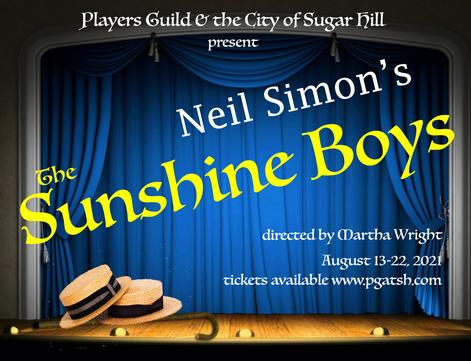 The Sunshine Boys by Neil Simon Aug. 13-22, 2021
Al and Willie as "Lewis and Clark" were top-billed vaudevillians for over 40 years. Now they aren't even speaking. When CBS requests them for a "History of Comedy" retrospective, a grudging reunion brings the two back together, along with a flood of memories, miseries, and laughs. The story follows the attempt by a young theatrical agent to re-unite his elderly uncle, a former vaudevillian great, with his long-time stage partner for a TV reunion. Despite their celebrated reputation, the two old men have not spoken in twelve years. Besides remastering their sketch, the two men have not spoken in 12 years. Besides remastering their sketch, the two men have numerous issues to work out before they are ready to return to the public eye.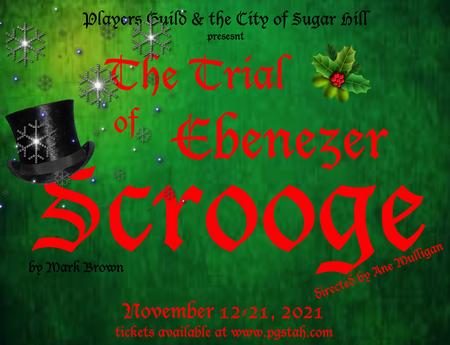 The Trial of Ebenezer Scrooge by Mark Brown Nov. 12-21, 2021
The trial of the century! A year after his miraculous transformation, Ebenezer Scrooge is back to his old ways and is suing Jacob Marley and the Ghosts of Christmas Past, Present, and Future for breaking and entering, kidnapping, slander, pain and suffering, attempted murder, and the intentional infliction of emotional distress. The ghosts employ England's most charismatic, savvy, and clever barrister. Scrooge, that old penny pincher, represents himself. One by one, Bob Cratchit, Scrooge's nephew Fred, solicitor and philanthropist Sara Anne Wainwright, and the ghosts themselves take the witness stand to give their account of the night in question. Will the judge find the spirits and Marley guilty? What of Scrooge? Has he truly gone back to his old ways? Join us for the comedy Trial of Ebenezer Scrooge.